Joined

Jun 3, 2020
Messages

146
Reaction score

51
Points

28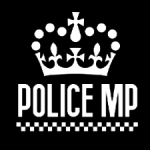 ​
Good afternoon!
After much anticipation and a little bit of teasing mixed in for good measure, and
despite some people maybe jumping the gun a little,
I'm making a couple of announcements today.
New Deputy Commissioner​
Firstly, as some of you may have already seen, James has taken the role of Deputy Chief Commissioner taking over the role from Loaf who has taken the decision to step back from his commissioner role and take on a more community & company sided role. We're grateful for all of the work Loaf has put in over the months he has been holding this role, he'll still be around just not doing what he has done up to now. I'm sure in around 3 weeks we can say a proper thank you, I'm sure most of you will get that joke
James will now take up Loaf's role as Deputy whilst me and Lewis will maintain our Commissioner roles. A further explanation will be written below into the way I aim for our roles to be run.
Secondly, I am pleased to announce that over the next week or two we will be opening up new roles. From early next week, applications for Assistant Commissioner will be opening. This will be a permanent role and the responsibilities will include:
Maintaining an active presence daily on the server, Discord and forums
Be ready and available to deal with problems, questions or suggestions on a daily basis
Work as a mediator between Gold Command, Silver Command and Bronze Command to ensure a solid communication structure
Writing of documentation, creation of spreadsheets and other Google Docs related tasks
Maintaining a strong work ethic and a will-do, can-do attitude whilst holding the role
We will be recruiting 2-3 assistant commissioners with the scope to recruit more in the future if it is required. More will be announced in regards to this once we release applications.
As a result of new Assistant Commissioners being recruited, there will be a high chance of positions opening in Bronze and Silver resultantly. The role will open up for those ranked Sergeant or higher.
People Services and a new People Services role ​
From Tuesday, we will be proactively working with People Services and Professional Standards Department to actively speak to people both in-game and on the Discord to gather useful feedback. I am happy to report that we will also be introducing a new division off the arm of People Services called the Quality Assurance team. They'll work to discover problems and actively work with newly recruited Assistant Commissioners, Bronze Command and Silver Command to combat such issues. As a result, there will be a lot more opportunity to give opinions, suggestions and concerns in one place with ease for both normal community members and those within command roles. We hope this will be a step in the right direction towards combatting a lack of communication in some areas of the community. Members of this team will be assigned certain aspects to focus on and systems will be set up to ensure they are able to communicate efficiently with us and us with them.
Ensuring college efficiency ​
We will be working with our college department from next week too to make sure that all of our trainers and trainees are both satisfied and satisfactory, maintaining the standard we expect within PoliceMP. We're a much more relaxed community than others and maintain our ability to play whilst not whitelisted but in order to maintain this, we need to keep an eye on those who do go through the college and recommend college for those who do not. Any ideas or concerns about training should go through Cal, he's always happy to listen to ways you feel college could progress.
Mayor and Feedback​
Next, I would like to announce the future introduction of a mayor, this has been highly requested and in our recent feedback form, 80% of the 40 people filling in the form would like to see it become a new role:
​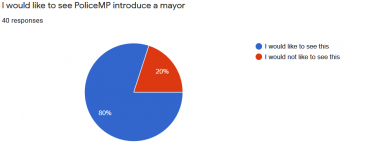 We're working on exactly how we do it and looking through all the feedback given recently in regards to this. At present, I have no further information to give on this role and when it will be happening. I can confirm it will happen, though its responsibilities, how it is chosen and other factors have not yet been decided. Please do not ask Gold Command for further information on this, we will announce further when we have more to say on the role.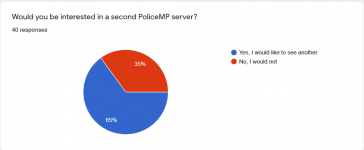 We also asked for some feedback in regards to a secondary PoliceMP server, the response has been that 65% of you would like to see this in the future. Once again, this is something we're looking into but at this time have no further solid plans to announce at this time.
Administrative Sergeants ​
We will also be making changes to the Administrative Sergeant role within the next two weeks, mostly in the way they operate, the training they are given and the requirements they must follow. We'll be monitoring current actions and making changes based on how it is currently working, none of the changes will be that impactful for those holding the role.
Division-only Sergeants ​
From now onwards, unless you very much require a Sergeant to be working within your division, then you will be asked to utilize Administrative Sergeants. This has been something that has become a little relaxed in the last few weeks.
Weekly Bronze Command meetings ​
With the introduction of new Gold Command roles here, we will be aiming to run Bronze Command meetings weekly. This allows for suggestions, complaints, etc to be discussed as a group once a week where required. Gold Command and Silver Command will also attend these meetings, as well as developers when they are available to do so. We'll be introducing new ways for you to contact your command teams soon, enhancing the chain of command structure that is currently in place and, in turn, improving communications.
Closing message
We're making these changes to aid the community in the future. We're not able to make changes that please each and every person, if we could then that would make our lives a whole lot easier. There's a lot of things that haven't been announced here that we're working on in the background but need time to do them, we tend not to announce things too early since people's expectations rise and people want it sorted quicker. We're only able to announce things which are progressing towards competition currently. Thank you to our acting Assistant Commissioners for their cover during the first half of the week whilst me and Lewis were unavailable. I hope these changes will go some way towards sorting a lot of the issues people have brought to us, both fixing them directly and indirectly. Everything we do is to benefit the community and has reasoning behind it.


​
Thank you for reading,
elmo